Our offset
projects
We use our profits to offset the carbon footprint of every hotel booking made on Staze. Our portfolio of projects is aligned to the Oxford Principles for Net Zero Aligned Carbon Offsetting to balance long-term, short-term, carbon removal and prevented emissions.
Get started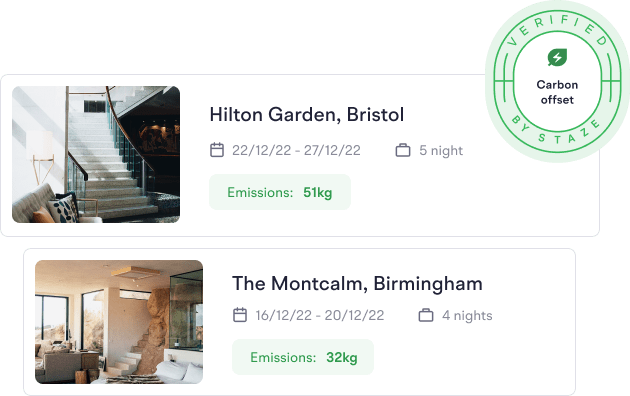 Get your offsetting certificate every quarter
We provide you with an official certificate confirming where and how your hotel emissions have been offset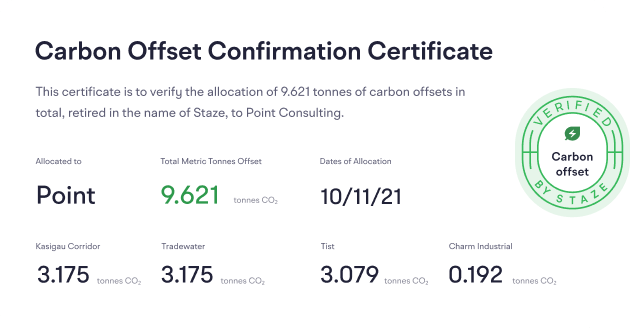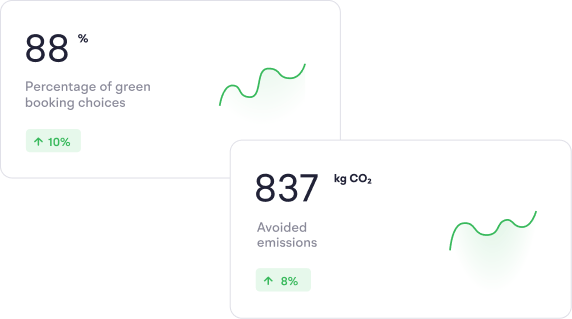 Why do we offset?
Offsetting isn't the answer by itself, but it does play an important role on the journey to net zero
What you can't reduce, you need to neutralise by properly offsetting. Our aim is to give people the information to reduce their hotel carbon footprint as much as possible. But we believe we owe it to ourselves, and the planet, to offset your remaining impact.
Frequently asked questions
Are all of the offsetting projects third party verified?
Three of our projects are certified by VERRA or the Gold Standard. Charm Industrial is not yet third party verified because of the long term R&D nature of the project which we think is important to a mixed portfolio of offsetting projects. However, they do have a good pathway towards being certified either by a governmental regulatory body or a voluntary standard in the next 2-3 years. You can read more about their approach to becoming the most transparent removals company, here.
Can I choose which offsetting projects my team's bookings are offset with?
Bookings are automatically offset through our four projects. If you would like to only offset your bookings through one project, get in touch with your account manager.
Do I get an offsetting certificate?
Yes, each quarter your company will receive a certificate confirming where and how your hotel emissions have been offset.
We offset your hotel bookings with 4 high quality projects that align to the Oxford Principles for Net Zero Aligned Carbon Offsetting and are third-party verified. You can read more about our offsetting projects here.
How much do you offset for each booking?
We will calculate and offset the specific carbon footprint for the hotel you book. If we do not have carbon footprint data for a hotel, we will offset the average carbon footprint for a hotel in the city you are staying in.
How do you calculate the carbon footprint of hotels?
Staze builds on official guidance from the GHG Protocol to calculate hotel emissions from business travel. In order to achieve market-leading accuracy, we calculate a hotel emission factor for each individual hotel as opposed to using a single hotel emission average.
Research shows that 75% of the carbon footprint of staying at a hotel comes from energy usage. We therefore firstly look at the total energy consumption of hotels and which types of energy they use. This is matched to 8 other data points including the occupancy of the hotel, the location type and the number of rooms in the hotel to give a clear picture of the environmental impact of staying in any given hotel.
Our model adheres to the highest standards of the TCFD principles on effective disclosure so you can rest assured that our approach is reliable, verifiable and objective. When it comes to reporting on your carbon footprint, we can share a detailed list of assumptions and sources and workings. Get in touch with us if you require that.
Why do you display data rather than certifications?
When it comes to action in sustainability, the most important things a hotel can do are set a science-based reduction target and reduce their absolute carbon footprint. We make it easy for you to see and choose these hotels. A hotel can have an eco certification but not have set a science-based reduction target or have actually reduced their carbon footprint, which is why we do not show eco certifications.